The Clinically Proven, Doctor Approved Way to Get "Office Visit" Healing at Home
Please turn your sound up and listen carefully... your video is about to begin playing.
Let me tell you about a dynamic, stress-reducing, anxiety-zapping, whole-body-healing miracle...
...it's called Chromotherapy.
If you haven't heard of it, that's okay.
Dr. Richard J. Wurtman, M.D. from MIT said:
"It seems clear that light is the most important environmental input, after food, in controlling bodily function."
I'm going to tell you what you need to know...
Chromotherapy is a scientifically proven treatment that promotes health and wellbeing for your body, your mind, and–ultimately–your spirit.
Simply put, it uses colored light to soothe and heal you.
You see, colors—like sounds—carry powerful vibrations that touch you on a deep, cellular level.
You can enjoy well-rounded balance and inner harmony because color vibrations can calm, energize, and focus your thoughts.
The colors are calibrated at different frequencies, each with a stimulating or soothing therapeutic purpose.
And because of the success of Wholetones™: The Healing Frequency Music Project...
I decided to create a chromotherapy experience for your home—so you can clear your mind, relax, and erase your anxiety at a tiny fraction of the "office visit" cost...
So I studied this phenomenon… and figured out how to infuse the healing frequencies in the music of Wholetones™ with the powerful, proven effects of Chromotherapy.
And I must tell you... based on the responses from anyone who's had the pleasure of experiencing it...
By perfectly mixing and balancing light and color with the healing frequencies already present in the music of Wholetones™, I successfully created a breakthrough–the hybrid of therapeutic music AND Chromotherapy!
So it only made sense to call it... Doctors, chiropractors, massage therapists and other natural healers are raving about it because it's so simple, yet effective—and the cool thing is, anyone can use it...
...because all you do is play it on your home DVD or BluRay player and it does the rest!
Now chromotherapy sessions can get very expensive...
I found a 60-minute session for $135.00 in New York.
But now you can have this nearly identical therapy in your very own home... whenever you want it (forever) for less than a fraction of that upscale cost.
Many health practitioners have realized the deep soothing benefits of color-therapy—or Chroma-therapy—and use it in their offices as an expensive out-patient procedure that:
Relaxes and soothes you
Clarifies your mind
Nearly erases anxiety
Floods you with harmony
Awakens your spirit and soul
But I can show you how to get this therapy in your home today for 75% LESS... and you can have that experience your whole life through with NO additional cost EVER!
Oh I could charge an arm‐and‐a‐leg for it just like the hot-shots in New York...
Look I freely admit—I'm frugal.
I would never let you pay that crazy price... even though it's actually fair for what you get in return.
I did a little math here... the length of Wholetones™ Chroma—all 7 songs played back-to-back on the disc—is 2 hours and 59 minutes...
That would cost you $405.00 if you went to that fancy office in New York.
But I can show you how to get this therapy in your home today for 75% LESS... and you can have that experience your whole life through with NO additional cost EVER!
Simply click the orange buy now button below to try it out...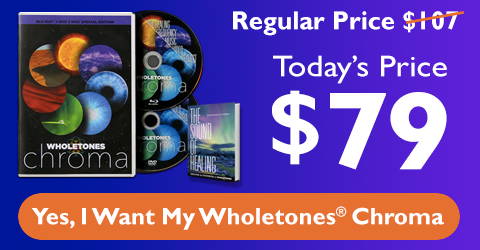 We kindly accept Visa, Mastercard, Discover and American Express

NOW... for a limited time, I'll include a FREE copy of my tell-all book Wholetones™: The Sound of Healing – hardcover edition when you agree to try Chromatherapy today!
This definitive, detailed account of how Wholetones™ evolved into transformative force it's become is much more than just a great story...
...it's a journey of discovery... each page puts brings you in... next to me as I uncover the secrets that turned the traditional knowledge of music on its heels to create what I fondly call my opus et vita, or... my life's work.
It's the true story of how, through trial and error... sweat and tears, I finally discovered the powerful combination of sound, music, and Biblical healing frequencies entrusted to me by one brave piano player in Jerusalem.
This book recounts in tear-jerking detail what happened to that fateful night in Israel, the impact of healing frequencies on my very own family and friends, and how these ancient frequencies have been used throughout time.
And I quickly discovered the need to reimagine these frequencies to fit our modern lifestyles...
...so you can easily absorb all their powerful health benefits delivered in striking sight and crystal-clear sound.
For musicians, there's even a chapter that shows you how to re-calibrate and tune YOUR instruments to strike the delicate chords of the 7 healing frequencies yourself... in every tune you play—works in any key!
Wholetones™: The Sound of Healing is truly an inspirational journey into the spiritual realm of healing and much, much more... a $27.97 value—yours FREE with every order of Wholetones™ Chroma!
See what some leading health experts have to say about Wholetones™ Chroma.
"Michael's unique combination of sound and light positively affects ALL living cells and tissue. We use it every day to promote healing for our patients in our Miami clinic."
Laser Specialist and Cosmetic Dermatologist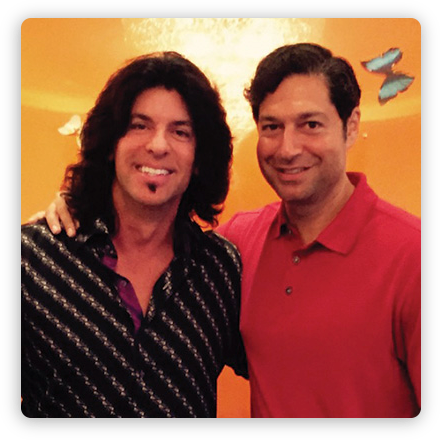 "We are using this new innovative technology to grow plants and herbs in our greenhouse—and are seeing a 40-60% increase in nutrient yield and growth."
author of The Maker's Diet and founder of Beyond Organic
Testimonials From People Like You
The Testimonials below are unedited, and have been submitted from real people just like you. None of these people were compensated for their testimonial. They are sharing because they love Wholetones, and they want you to know about it. Some of the results you will read about may be quite dramatic. These results may not be typical. Your results may vary.
"Deeper meditations, vivid dreams"
As we continue to listen to Wholetones and watch Chroma, we find more peacefulfeeling and have experienced deeper meditations. Tingling in the body and vividdreams. It works with you where you are. I have processed issues and cried ariver too. Find deeper Love for God or creator. Gratitude too.
"Sets a spiritual atmosphere"
I read the book and found it extremely fascinating! I listened to Wholetones in my car, on my phone, in my house and now on my phone!! It's wonderful to have playing in the frontground or the background - setting the spiritual atmosphere. Chroma is awesome to sit and soak with! I recently purchased Wholetones Christmas - simply beautiful! My 13 year old son loves all the products, asks for it to be turned on and frequently goes to sleep listening to it. My husband prays with it on and often does work in our home office with it playing in the background. We are thankful for Wholetones :)
My insides opened up to light & peace
I believe in the value of vibrations that affect us physically, mentally,emotionally and spiritually. The music in Wholetones is excellent and Ilove the visual projections on the Chroma as well. Very powerful. TheChristmas cd is also wonderfully mastered. We haven't experienced anyphysical healing as yet, but when we have it playing it brings a senseof peace to us (my husband and I). My husband was quite agitated abouta situation recently and he asked me to play the Healing Frequency and itbrought him such peace that now he requests it to help him sleep at night.I have felt a lightness in myself while listening to it. Hard to describe,but almost as if my insides opened up to light and peace instead of heavinessand agitation. I have shared the music with several friends. I haven'tfinished reading the book, but am quite impressed and in awe of the thingsthat have been hidden and are now being revealed to us. Thank you Jesus!!
It is healing. I play Chroma all night long. My sleep is deeper. I need less
hours of sleep. It also relieves stress and pain.
Impressed my Rheumatologist
"Got to share Wholetones with my rheumatologist yesterday. She wondered what I was doing to make such a difference. I had taken my CD's to show her. She was thrilled at my improvements and wrote down your info to share with other patients." I don't even know how I stumbled on the Wholetones ad. I think it was a God thing. I saw it and knew that I had to order it. I showed it to my husband and he said to get it on order. I have been using it every day since I got it except for the occasional day when I just don't stop. My husband says that he can tell if I ever miss a day. I feel so much better, my attitude is better and I have multiplied levels of energy. My rheumatologist said that I look so much more refreshed. I know my over all pain levels are so much better. My doctor said that whatever I was doing, she definitely wanted me to keep it up. I talked to her about the Wholetones, in fact I took my set of CDs to show her. She was very interested and wrote down all of your info to be able to share with other patients that she thought might be helped. I also am sharing about Wholetones with anyone else who will listen. I have several friends who have purchased a set.My husband Eddie doesn't have any health problems, but he says that he feels better, has a better attitude, more energy and more drive just being around when I am listening to it.
I'm healing from a stroke, this provides the sleep my body needs
I purchased Wholetones Music Therapy just about 12 days ago. Before that I had been getting 2 hours of sleep. I'm getting between 5 - 7 hour's straight sleep now! My body needs to heal from my stroke and carotid artery surgery on my left side of my neck. Sleep is where my process was lacking. I also was suffering from anxiety and depression. Wholetones Music Therapy has helped me to sleep and relax during the day. I purchased the Wholetones Chroma," and have that playing all day while I am home. I have passed along my testimony to my Stroke Survivor's support group on Facebook and have the information for Wholetones Music Therapy on the site. Thank you Michael for creating music that is soothing and peaceful. I hope that you continue to produce music as this is your gift.

Works wonders when grooming my rescued dog!
Dear Michael,
Please add me to your list of happy customers. I purchased both Wholetones and Chroma and love them both! Like so many I found a new level of comfort, peace and well-being. I started sleeping more soundly the first night after listening to Wholetones and found my days went by with me being happier, better connected with friends, family and the world. It was easier to want to move around more each day and with less joint pain. Today has been remarkable! I had to groom one of my dogs who is a rescue and does not like to be have her hair cut. I have never been able to use clippers on her so she gets a scissor cut. Usually it takes over an hour to get her head, ears and feet trimmed, she weighs 8 pounds but you would think she weighed 80 pounds and had 8 legs instead of 4. Since she won't stay still it is always difficult to cut her hair and can easily wind up being frustrating for both of us. Most of the time I get half of her done and finish the rest later in the day so she is not as stressed. Today was a wonderful exception. I set up the grooming station in the living room, put on Chroma and went to work. I was totally finished grooming her in a hour and a half! She was still, quite and very good especially when I trimmed her face and ears. Never has she stayed this still and let me easily cut her hair. I wished I had Wholetones and Chroma when I was actively grooming dogs. How wonderful it would have been to soothe the dogs and the groomer.
My heartfelt thanks for your work and the magic it contains. You are a blessing and I am grateful you were listening when you were gifted with this wonderful music you have brought to world. Many Blessings, Sharon
Awesome Michael, I purchased wholetones last year, loved it and have been talking about the blessing ever since. I have given mine to friends who are dealing with Lou Gehrigs and MS. They are healing slowly from terminal conditions. I have missed using the cds and am listening to doctors tell me surgery is needed because my bones are deteriorating with osteoarthritis. So as soon as I am able I will purchase the chroma for me and my dogs. Been a fan since the beginning excited that you are in the realm of light spectrum, what a day it will be to see it in full as our God created it. Gifts manifested!
I feel more peaceful at the core of my being. There is no desire for a glass of wine and greatly reduced desire for unhealthy foods. I feel like I am on a healing path from the inside out. Looking forward to receiving Chroma. Hoping for a miracle with leaky gut and autoimmune issues! This music feels like it will open me to the Grace that is always here. I have had a 60 year war with my body, always on the edge of illness or actually ill. This music is already changing how I talk to myself about myself. There is a spark of love here for my body and my beingness! As someone with a complex trauma history and all of the stress, the toll it takes over time on one's body and soul, I feel hopeful that something in me has agreed to settle while listening to the music. Some struggle is departing and peace is slipping into the empty space.

Helps the whole family, even the cat!
Wholetones has helped me sleep and feel relaxed in addition to helping to bolster my immune system as I have 2 autoimmune diseases. It has also calmed my rescued cat who has stayed secluded upstairs for the past 4 years to now being totally sociable, interacting with our other two cats and even asking to be brushed and petted! My husband takes the Wholetones cds out on the road with him as he is a long haul truck driver. The music helps with anxious moments and has even helped to reduce an exyema outbreak that reoccurs on his elbow. Today I am giving my dvd player and my copy of Wholetones to a friend who cannot afford to buy either and could really benefit from Chroma. I have wanted a bluray player for a while so there is my reason to buy one so I can enjoy the bluray version of my Chroma set. I also bought Wholetones Chroma for a friend of mine who suffers with PTSD and it has made a world of difference for his life!...

Kidney infection and pain gone
I listened to these samples and knew they were amazing because it took away a horrible headache..but I delayed in buying waiting for the Chroma add on and a couple of weeks ago I awoke with kidney pain..another infection from a stone I have and God said get the wholetones. So I ordered the chroma/wholetones pkg and downloaded on my mobile, listened all day and then that night I put Open Door on repeat. I awoke with NO pain/infection. Completely healed. I play Chroma all day at home and listen at night... thank God for you Michael Tyrrell for this amazing gift He has given you. I listen to you and Rick Pino everyday. What a gift of music ministry for worship and healing y'all have.
Helping my digestive issues
It has already helped with an issue I have been having with digestive issues- was beginning to worry about gall-bladder or pancreas, but Whole Tones has relieved to a great extent. Also very helpful associated with worry and stress related to it.
Our Art Guild painted to Chroma!
Today we did an experiment in our Art Guild using the Chroma Wholetones to paint to. It was a wonderful experience. People who had never heard Wholetones were profoundly affected and the art was very interesting how the different frequencies had impact on the art. We all enjoyed the experience!
(Chroma) Got them and wow this past week slept better than I have in a long time just by going to sleep with this music playing.
Increased productivity by 20%
I believe the WHOLETONES TO GO and WHOLETONES Chroma made the difference! Michael! The PRODUCTIVITY of the place where I work, just INCREASED by as much as 20%, after I have played these 2 Wholetones products for only ONE (1) month! In addition, when I just arrived in this building, people are very quiet and not happy! Now only ONE month later, people are coming alive, working hard and HAVING FUN at the same time! I believe WHOLETONES TO GO and WHOLETONES Choma are the MAIN CONTRIBUTING factor!!! Also believe these 2 Products are BYPASSING the brain and impacting us in the Subconscious state also! These make WHOLETONES products very POWERFUL!!!...When these 2 products are playing, we are receiving them in the CELLULAR level!!! They do not need to play loud! Also we do not need to keep watching the screen, when WHOLETONES Chroma is playing!!! WOW! I can not wait to report more progress later!!! Thank YOU! Michael!
Plan to use to engage my special needs students
I've only had them a few days. I am a teacher at a high school in rural western Massachusetts. I am planning on using the videos as part of a curriculum I am developing to engage students with special needs to learn about mindfulness. My package has not arrived yet but they are prepped and waiting. I'll get you updated. I am especially looking forward to showing them Chroma as they are very much both auditory and visual learners. It helps me relax before bed. It seems to drive my millennial college educated children, two still in and out of the house, into their rooms. Their dogs, however, prefer to stay with me. Millennials!!!

Sleeping without sleep medication, out of pain!
I am so amazed of how I feel, not only am I pain free but I feel like a burden as been lifted.You know when you suffer so much from pain, sometimes you wonder can I take anymore... I saw wholetones on facebook and kept putting off buying them, but I kept seeing it and decided to find out about them.Then I decided to buy. It's been now two months, I do not miss a day listening to them. I am now pain free and sleep without ambiem or xanax. I had back and neck surgery and was in so much pain. I would ache all over. At night I could only sleep if I took ambiem. I was on that for 3 yrs. Finally Drs put me on xanax to help calm me so I could sleep. I had tried other music to listen to and all they would do is keep me awake. The first night I listened to open doors with my ear phones, I feel asleep. I have been listening everyday since and in the day I put Chroma (DVD) on as I clean my house. I have to say how blessed I feel that I found wholetones. For the first time in 5 yrs I feel the best I've ever felt. My husband said, he never thought in this life I would be out of pain. I know the Lord brings people in our lives to answer our prayers.Well mine have been answered. I have shared this with friends and family. Two friends and on a daughter-in-law have bought them. My other two sons will be getting them soon. God bless you for this beautiful music that can truly change our lives.

I have been 'stuck' I just received my package from you, thank you oh so much, last Friday. I had a chance on Saturday to listen to Chroma for the first time. And, oh goodness... the first two, of course, unlocked my mind to be able to move forward. Then I listened to the rest that night... and I feel so much more 'light' and with everything, this last weekend, I did just happened with such ease... I accomplished so much. I took my little mp3 player with the first two, to listen to as I worked out at the gym on Sunday. I have a question, below, regarding physical fitness. I will elaborate there! Sunday evening I listened to them 'all' again and I woke up this morning ready to go through the day at work with ease, as well. And guess what? The day went SO easily... it truly was amazing. I listened to Open Door as I was riding the bike at the gym to warm up... and I noticed the rpm's were a bit higher than usual without any effort. Then with Desert Sojourn I began my work out on the machines, at the gym. The workout just seemed different and the time flew by. I finished my workout listening to the gym music, which was ok, and finished my Sunday errands on my way home... I believe the Universe knew I needed an extra boost with my healing and knows I've been stuck... and you were the key. I have to admit that after I purchased Wholetones I thought, "Oh, Laurie, what are you doing making another purchase on your quest of healing?" And then I listened to your description on Chroma; I got excited and listened to the first two recordings I sat there and cried with tears of gratefulness because I felt it immediately and throughout the rest of the day and had to listen to all of them before going to bed.

This music is truly a gift from God! I read every word you said and the comments. So as I laid down to rest, I began to listen to your samples. I had a pain deep down in the lower part of my back for about 4 months. As I relaxed and listened to the music, I felt tingling from the top of my head to the bottom of my feet, the pain was gone!!! I was so excited and began to praise God!! The music is very calming and I definitely will purchase the package with everything including the chroma therapy. God called me yrs. ago to heal in the name of the holy spirit through a prophetic dream. I will play your music to enhance the healing for others. Thank you God, David in Jerusalem and Michael for allowing God to use you with this gift!! God bless!!
Reaches a deep level of my being
Each one touches me in a way that I know is reaching to a deep level of my being. I always appreciate feeling these moments of connection to Source/God/All That Is. I have been sleeping better since I started playing the CDs and watching the Chroma videos. ...It's only been a few days, so not a lot of improvement. However, I feel like things are being re-written. I guess before the fitness can happen, the blocks have to be released. Some of that may mean pain as muscles retrain themselves to be in their correct alignment to the skeletal structure instead of holding it in a distorted way.

Helps my temptation to watch pornography
I've recently had to get a laptop for one of my classes, and as with my previous laptops, the temptation to watch pornography seems to fill my head every time I look at the laptop. I know what I'm supposed to do prayer-wise, and how I need to abide in Christ, and how this is correlated with obedience. I understand that being in obedience to my parents is being in obedience to the Father in Heaven, that honoring them brings Him honor. Still, for a couple of days after I got this, I slipped up, because my mind filled with desires that my body wanted satisfied and images to go with it. Anyway, I rearranged my room furniture, as I'd done in the past, because this seems to help and give the room a different atmosphere. Additionally, I play the Wholetones music through my room while studying, because it fills my room with the same thing with which God fills my heart and spirit:hope. Faith sees a way forward, but I've struggled seeing a way forward through this temptation. But where I cannot see, even through faith, I hope, and it's hope that provides a way, even though I cannot see it. I love the music that fills my room with the sound of God's love and gentle embrace, and I can feel his deep pleasure reaching down into my bones, my heart, into the fabric of my very soul. Thank you for your music, and also, thank you for your emails: they both help me to focus on the light of God's love and fill my eyes and ears with beauty. Toward that end, I've ordered Wholetones Chroma, because I figure, why not reprogram my mind to be filled with a different sort of image when I look at my laptop screen, images correlated with the sound of healing and the reaffirming love of my Redeemer? I can't begin to thank you, Mr. Tyrrell, for this gift you've given me, and for passing on hope to me when my spirit forgets it and only feels despair. I'm a first year graduate student pursuing a Master's of Science in Actuarial Science at the University of Nebraska at Lincoln.

Never have to go into a doctor's office for a session
Never pay those obscene charges
Never miss out on the transcendent experience of inner peace
Watch as anxiety and stress are gently lifted away from your body and mind almost instantly!
The results of Chroma have been clinically proven and doctor approved so you can experience the very same effects of expensive chromotherapy... right in your very own home!
Why not experience Wholetones™ Chroma for yourself... right here, right now for FREE?
Simply press play and enjoy this sample of Wholetones™ Chroma!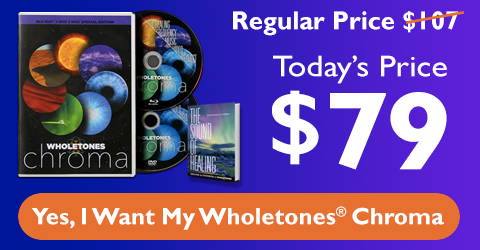 We kindly accept Visa, Mastercard, Discover and American Express
Because Wholetones™ Chroma...
Turns any room with a television into a relaxing, healing spa
Best of all, I'm not asking you to commit to anything here...
You have no obligation to purchase Chroma or anything else.
Because with your risk-free, in home demonstration of the power of Chroma, you get to try it for FREE.
Here's how... Wholetones™ Chroma is backed by my ironclad, no hassle, Money-Back Promise for a full YEAR.
If you don't find Chroma useful in any way, return it for a complete refund—and no hard feelings!
But you KEEP my book as a special thank you just for trying Chroma.
You'll be so glad you did...
Until next we meet, be whole...

You're about to discover a breakthrough in music and color therapy so fantastic, the New York Times says it's, "now used in the treatment of a variety of diseases." Best of all your complete satisfaction is required or your money back! Enjoy your risk-free, in-home examination of Wholetones™ Chroma and get your FREE, hardback copy of my book Wholetones: The Sound of Healing today.
Baker, F., & Roth E. A. (2004). Neuroplasticity and functional recovery: training models and compensatory strategies in music therapy. Nordic Journal of Music Therapy, 13(1), 20-32.

Baker, F., & Wigram, T. (2004). The immediate and long-term effects of singing on the mood states of people with traumatic brain injury. British Journal of Music Therapy, 18(2), 55-64.

Baker, F., Wigram, T., & Gold, C. (2005). The effects of a song-singing programme on the affective speaking intonation of people with traumatic brain injury. Brain Injury, 19(7), 519-528.

Bradt, J., Magee, W. L., Dileo, C., Wheeler, B. L., & McGilloway E. (2010). Music therapy for acquired brain injury. Cochrane

Database of Systematic Reviews 2010, Issue 7. Art. No.: CD006787. DOI: 10.1002/14651858.CD006787.pub2.

Guetin, S., Soua, B., Voiriot, G., Picot, M. C., Herisson, C. (2009). The effect of music therapy on mood and anxiety-depression: an observational study in institutionalised patients with traumatic brain injury. Ann Phys Rehabil Medicine, 52(1), 30-40.

Nayak, S., Wheeler, B. L., Shiflett, S. C., & Agostinelli, S. (2000). Effect of music therapy on mood and social interaction among individuals with acute traumatic brain injury and stroke. Rehabilitation Psychology, 45(3), 274-283.

Thaut, M. H., Gardiner, J. C., Holmberg, D., et al. (2009). Neurologic music therapy improves executive function and emotional adjustment in traumatic brain injury rehabilitation. Ann N Y Acad Sci., 1169, 406-16.

Wheeler, B. L., Shiflett, S. C., & Nayak, S. (2003). Effects of number of sessions and group or individual music therapy on the mood and behavior of people who have had strokes or traumatic brain injuries. Nordic Journal of Music Therapy. 12(2), 139-51 A music cued movement intervention for persons with Parkinson's disease facilitated enhanced physical outcome measures and quality of life (Clair, Lyons, & Hamburg, 2012).

Rhythmic auditory stimulation is effective in rehabilitation of those with acquired brain injury (Bradt, Magee, Dileo, Wheeler, & McGilloway, 2010). VA participants who received rhythmic auditory stimulation, a Neurologic Music Therapy technique, following strokes improved their one-limb stance, cadence, velocity, stride-length, and posture significantly more than control participants (Hayden, Clair, Johnson, & Otto, 2009).

Rhythmic cueing delivered through the auditory system can facilitate improved motor control and motor output following injury (Malcom, Lavine, Kenyon, Massie, & Thaut, 2008). Rhythmic auditory stimulation resulted in better gait training gains than NDT/Bobath training in persons with hemiparetic strokes (Thaut et al., 2007).

Rhythmic auditory stimulation facilitated improved gait speed, stride length, and gait speed, which carried over for up to 15 minutes following training (Hausdorf et al., 2007).

Participants with post-traumatic stress disorder (PTSD) experienced greater reductions in symptoms with music therapy than with cognitive behavioral therapy (Carr et al., 2012). Music therapy interventions improve consciousness in the acute management of acquired brain injury (Meyer et al., 2010). Treatment participants with brain injury demonstrated improvements in executive function (Thaut et al., 2009).

Active engagement in music therapy reduces psychomotor agitation in patients who have severe brain injuries (Formisano et al., 2001). Music during coma evokes physiological reactions to sound stimuli that regulate cardiovascular and cortical rhythms to promote consciousness (Aldridge, 1996). Brain injured patients in a vegetative state can initiate pillow-pressing responses to turn on preferred recorded music (Boyle, 1994).

A music therapy protocol for patients who had strokes and dysarthria increased their maximum phonation time, fundamental frequency, and average intensity after treatment (Kim & Jo, 2013).

Group music therapy improved singing quality, and voice range while speaking quality was maintained in persons with Parkinson's disease (Elefant, Baker, Lotan, Lagesen, & Skeie, 2011).

Music therapy for persons with nonfluent aphasia demonstrated singing strengthens breathing and vocal ability, improves articulation and speech prosody, and increases verbal and nonverbal communication (Tomaino, 2012).

Music and language are linked in the structural patterns and brain processing in those with aphasia (Patel, 2005). Persons with TBI who participated in a music therapy singing intervention gained vocal range, experienced improved mood, and had better affective intonation (Baker, Wigram, & Gold, 2005).

The statements on this website have not been evaluated by the Food and Drug Administration. Products are not intended to diagnose, treat, cure or prevent any disease. If you are pregnant, nursing, taking medication, or have a medical condition, consult your physician before using our products. Results may vary. The information contained on this website is provided for general informational purposes only. It is not intended as and should not be relied upon as medical advice. Always consult with a healthcare professional before starting any diet, exercise or supplementation program. Testimonials are from real persons who are users of our products.
*Individual results may vary.